Moving is stressful on everyone, even our pets. It is important to know how to prepare yourself and your animals. Here is your guide to moving with a dog.
It's no secret that moving can be whirlwind of emotions. You're excited to settle into your new house, but you're stressed about moving, and a little sad about leaving your old home behind.
But when you're focused on accomplishing everything on your moving checklist, you may forget about one important part of your family–your pup!
Moving can be a stressful time for your dog. Unlike you, they have no idea what's going on, so you'll want to make the transition as easy as possible for them.
Do you want to know how? Keep reading to discover our tips for moving with a dog.
Keep the Crate Out
When was the last time your dog had to be crated? If it's been a while, their crate will likely be a new and unfamiliar environment to them.
Put their crate out a few weeks before the big move. Help your dog form a positive association with it by putting their food in the crate. Gradually close the door while their eating, so they're used to it when moving day rolls around.
Keep the Collar On
If your pup doesn't normally wear a collar, now is the time to start. There's a lot going on during moving day, and if they escape you'll want them to have identification.
Make sure the tags are up to date. They should have your current phone number and your new address if you choose to include it.
Even if your dog is microchipped, it's a good idea to have them wear a collar with tags, too. The collar symbolizes that they are somebody's pet, and a good Samaritan may be more likely to approach your dog if they think it's a lost house pet rather than a stray.
An easy way to get your dog used to their collar is to put it on for a few minutes every day, leaving it on a little longer each time. If your pup is against the tags, consider getting silicone ones that don't jingle or get them used to the collar first and add the tags later.
Go on Practice Road Trips
Another great way to get your furry friend ready to move is by taking them on practice road trips. This will get them used to riding in your car, and it can help you tell if your dog is prone to motion sickness or not.
If your new home is only a few minutes away, you'll probably only need to do this once or twice right before the move. But if you're moving several hours away, you'll want to spend a lot of time on this step.
Make sure you talk to your vet if you notice your dog getting motion sickness. They can recommend medications to help, so your poor dog won't be sick the entire time.
Go on a Walk in Your New City
Moving to a new home means that your dog will have to give up everything they are familiar with (except you, of course). This can make them feel stressed and anxious.
If you aren't moving too far away, consider taking them for walks around your new area. They'll be more comfortable exploring a new walking route before all the moving chaos starts and having something familiar after the move will help them feel more relaxed.
Research Vets in Your New City
Is your dog on any medications? Are they particularly curious? Then, you may want to research vets in your new city before you move.
Animals have a knack for getting into things they're not supposed to. If your pup gets hurt or you lose their medications in the move, you'll want to have a vet picked out and ready to go.
Pack an Essentials Box
Alright, so this one is a great moving tip for both you and your pup.
It'll likely take you a few days (or even weeks) to get everything unpacked. During this time, you'll still need to access your necessities. Packing a box of essentials, like toiletries, your phone charger, and a few changes of clothes is a great way to make sure you have everything you need without having to rummage through a million boxes.
Of course, your best friend will need their things, too! Make sure you pack their food, bowls, leash, dog bed, and favorite toy. Having these familiar items will help them feel more at home.
Keep Your Dog in a Separate Room
So, moving day has finally arrived! It's going to be a long day for you and your dog. The best thing you can do is to keep them at a friend's house or a kennel. This way you can pick them up once the moving chaos is over.
If this is not a possibility, keep them in a quiet room with the door closed. This will help to minimize stress and let you focus on moving without worrying about your dog getting out.
Introduce Them Slowly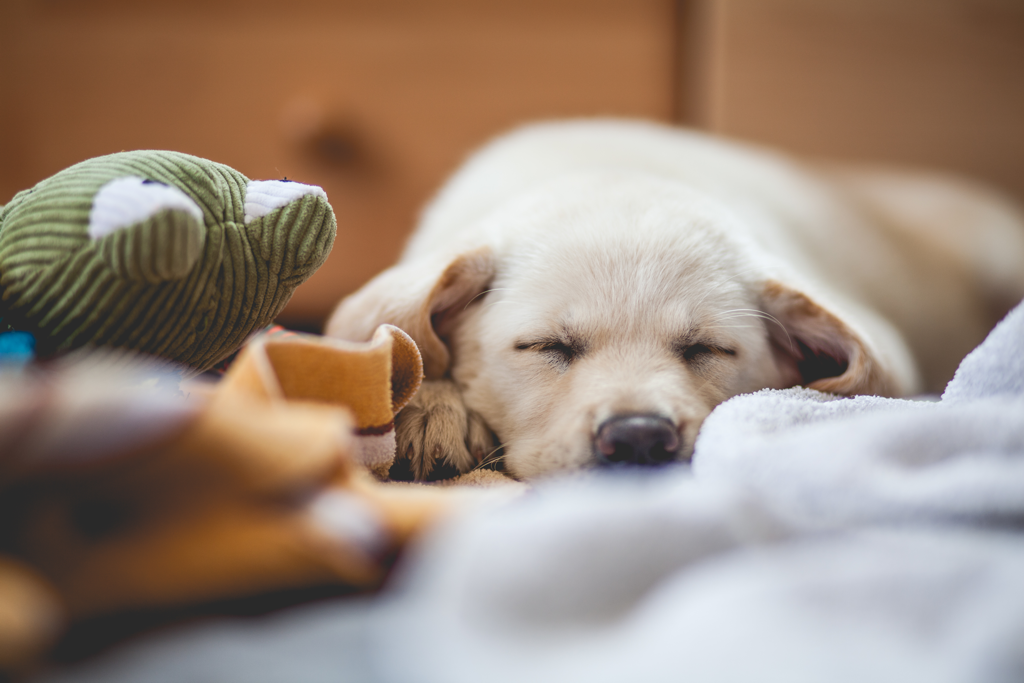 Once you get to your new house, it's a smart idea to keep your dog's belongings in one room of the house. Keep them in this room and slowly introduce them to other rooms in the house. This is the best way to prevent them from feeling overwhelmed in their new home.
Tips for Moving with a Dog
If you've decided to move, you may be worried about how your dog will react. Luckily, there are a few steps you can take that will make moving with a dog much easier. Your dog will be ready to call this new house "home" in no time!
Are you still stressed about moving? Check out our moving services today to learn how we can help.