Industrial Moving Service in Washington DC, Virginia, and Maryland
A Professional Moving Service For Industrial Workshops And Factories
For Efficient Industrial Moving Service in MD, DC, and VA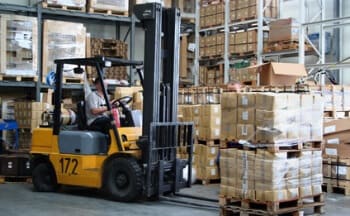 Jake's Moving and Storage will handle all your industrial moving needs. You have found the perfect new location for your factory. It will provide all the resources and local infrastructure that you need to expand your business.
Now you only have the question of how to get your business relocated to this ideal location. You can't call just any moving company. Most moving companies handle residential moves, but commercial moves involve special needs that require experienced professional industrial movers.
What is our industrial moving service?
Our industrial moving service is available in Maryland, Washington D.C., Virginia and surrounding areas. This specific service is geared toward moving entire factories with all their heavy equipment, across town, across the state or cross country. We move practically all types of heavy machinery and equipment, but the only things we won't move are hazardous chemicals and flammable liquids.
When selecting a mover for this type of job, you can't hire just anyone. Our professional industrial movers are experts at relocating factories from VA, DC, or MD to any other state. We are licensed, bonded, and insured, provide fast and friendly service, and our up front pricing will leave you with no unpleasant surprises on your bill at the end of the move.
Packing materials and supplies
Moving the machinery and equipment of an industrial factory carries with it the need for special packing supplies and materials. We have all the necessary supplies for packing your machinery so that you can be confident it will be in perfect working order when it has arrived at your new location. This includes custom packing material for odd shaped or fragile items to prevent scratches or dents. We consider packing and unpacking to be the most important part of the move. As long as this is done right, then nothing should be damaged when all the items are in transit to their new location. By putting the logistics of your move into the hands of our skilled packers and movers, you only need to concern yourself only with making your business even more prosperous in its new location.
Storage facilities
You may run into a situation where the location you are moving in to is not ready before you need to be out of your current building. This is where our storage services in VA, MD, and DC come in handy. We can pack and pick up your items and then hold them at our storage location until you are ready for us to move them into your new factory building. As with our moving services, we have up front, competitive pricing on our storage and our facilities are big enough to hold your large items until you are ready to complete the move.
The right choice for your needs
Our professional industrial moving service will exceed your expectations. We have skilled packers and industrial movers, competitive pricing, and our friendly staff is available to answer any questions you may have about moving your equipment. We are a local, honest business with up front pricing so you get no surprises at the end of the move.
We are licensed, bonded, and insured to give you the peace of mind of knowing that you are covered in any eventuality and our honest, dependable professionals do everything in their power to make your move go smoothly and quickly. If you are located in Maryland, Washington D.C. or Virginia, please call our company for your industrial or factory moves. Give our business the chance to help your business flower in a new location.

Click To Call From A Mobile Phone
Click for a
Free Estimate